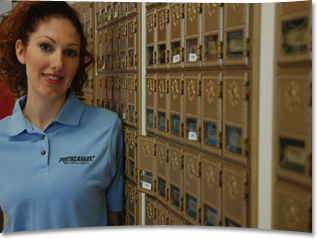 Annex Brands, Inc., based in San Diego, California, is a franchisor of over 420 retail and commercial shipping and business service centers. Originally founded in 1985 as Postal Annex+, Inc., the company was renamed Annex Brands in 2007. They are a leader in the shipping and business services industry with locations throughout the U.S. and Canada. Annex Brands purchased Navis Pack & Ship in Denver, Colorado, and needed to integrate their IT systems.
Annex Brands had previously worked with Scott and the On-site team, and knew they were up to the task. On-Site acted on behalf of Annex Brands and managed the contract negotiations with a telecom provider for higher bandwidth in the San Diego office, as well as a Multiprotocol Label Switching (MPLS) high-performing telecommunications system for the Denver office.
In addition, they:
Installed and configured an Integrated Access Device (IAD) and the MPLS in the Denver Office.
Purchased and installed new workstations for all users in the Denver office.
Upgraded all users to Office 2010.
Rebuilt their server to integrate with the server farm in San Diego.
Set up a backup to a local Network-Attached Storage (NAS) and replicated backups to the secure colocation facility in San Diego.
Installed new VoIP phones.
As Always, Annex Brands Was Completely Satisfied With the Results:
"Although this was a complex, multi-location project, Scott and the On-Site team pulled it off 'without a hitch!' We're always amazed with their ability to ensure all the details are taken care of in a precisely organized fashion. And they do this without disrupting our services as well. On-Site Tech Support is our 'go-to' IT team for whatever we need, wherever we need it!"
If you need a "go-to" IT team that can handle your large and small projects, in multiple locations, or simply on-site, contact On-site Tech Support at 619-717-8070 or email us at: scott@on-sitetechsupport.com. We'll be happy to pay you a visit to discuss and assess your IT needs. Visit https://www.on-sitetechsupport.com/ for additional information.