Crapware Content Is Killing Your MSP SEO Efforts
Over 90% of website pages get no traffic from Google. Zero. Nada. An additional 5% of pages only get between one and ten visits a month.
Sadly, the odds are that your MSP blog pages and website pages fall under one of the above categories. However, the good news is that you can do something about it. It is possible to create content that does well on Google both now and in the future. Read on to discover how your managed service can leverage Google's full potential to bring in customers and drive sales.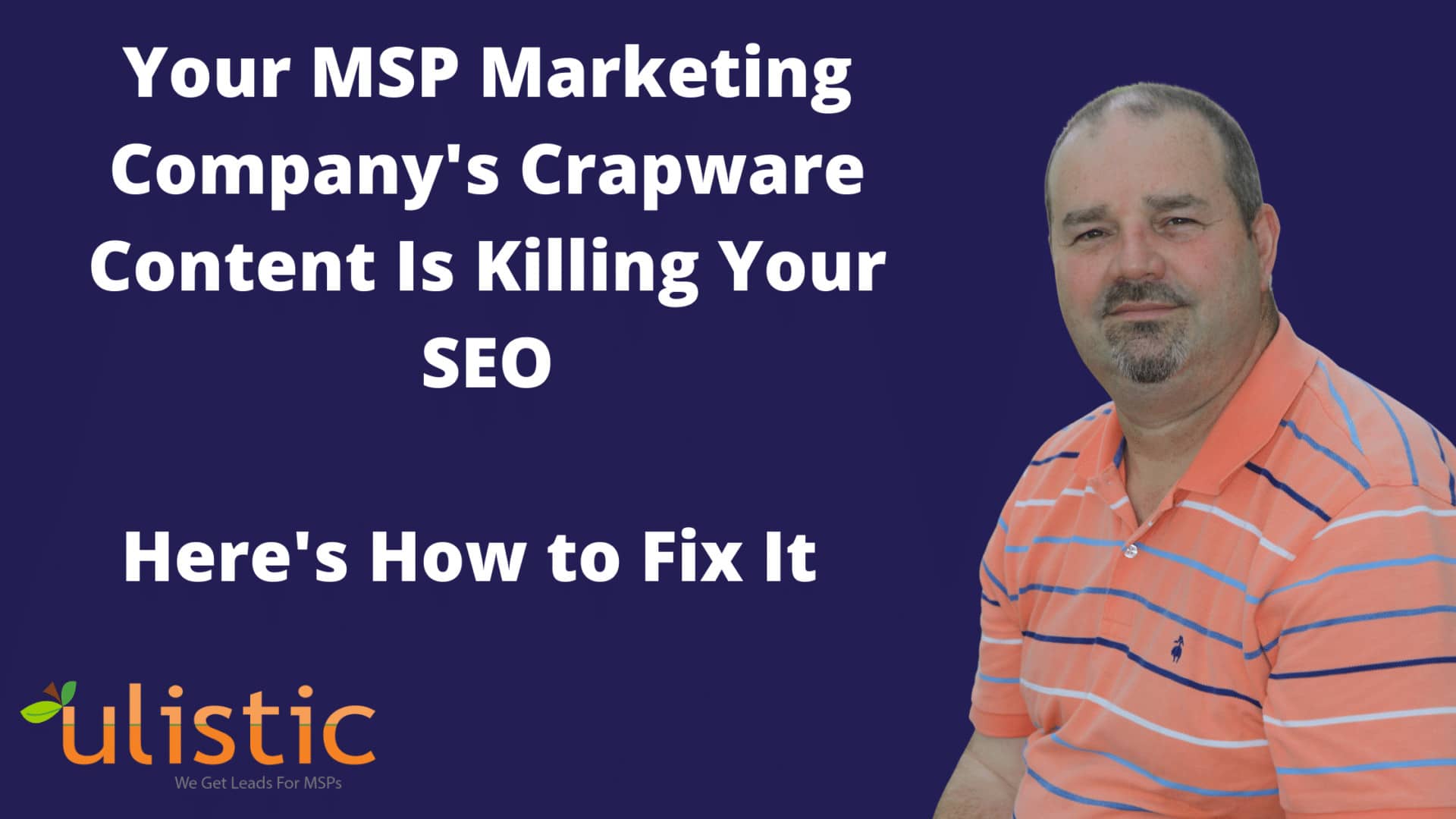 Discover What Your Target Audience is Looking For
As a managed service, you likely have one or more areas of expertise that are likely to appeal to certain business owners but not others. Perhaps your services are geared to small, growing businesses; conversely, maybe you run a large firm and target large companies. Maybe you specialize in certain industries such as the medical industry, legal industry, or oil/gas industry; alternatively, you may focus your efforts on promoting specialized MSP services such as customized software creation or support for IT systems using Linux.
It's important to discover what your target audience is looking for when searching the internet for ways to improve their IT set-up. One good way to better understand the needs of potential clients is to ask your current clients for input and suggestions. Another way to get insight into your target audience is to use the Answer the Public website. You type in the keywords you want to rank for and then have a look at actual searches related to these keywords. You'll likely see patterns that can help you understand what questions your audience is asking; by answering them, you can establish yourself as an industry leader that local businesses can trust with their IT systems.
Even so, knowing what questions your potential clients are asking isn't enough. You need to make it clear to them that your article has the answer to their query. Your headline should be clear, with no riddles, plays on words, or puns. State the questions and give the answers. Use subtitles and bullet points so your information is easy to read at a glance.
Focus on Evergreen Content
Your managed service blog likely has a lot of time-specific content. Such content includes, but isn't limited to, IT news pertaining to a particular event or year, IT predictions for a particular year, or IT problems that may be fixed in the foreseeable future. This content, if well-written, can be powerful but it won't drive traffic to your website long-term. If, for instance, all your articles about cybersecurity while working from home reference the COVID-19 pandemic, they'll become outdated once the pandemic is over. At that time, people who come to these articles and read them will quickly leave your site in search of up-to-date content that addresses current needs.
Evergreen content provides information that is relevant both now and in the future. It includes:
FAQs
Instructional articles and how-to guides
Certain product reviews
Lists
As an IT expert, you likely know what IT products and services your potential clients are likely to use. You can probably also offer expert advice that can help business owners in certain industries make wise IT decisions. Use your knowledge in conjunction with the Answer the Public website to see what type of input your potential clients is looking for and deliver it.
This doesn't mean you should never write time-specific content. Your clients and potential clients need to see that you're aware of the current issues they're facing and have the solutions to them. Seasonal content, content referencing specific years, or referring to time-specific problems isn't bad in itself. However, it shouldn't be the main focus of your site. Most of your content should be evergreen, not tied to a particular point in time.
The good news is that you can often "recycle" old content by updating it and then republishing your post. Adding new information and recent statistics can transform a well-written yet time-specific article into a new one that can help you bring in potential customers now and in the future. At the same time, be prepared to hit the "delete" button on a lot of articles that refer to obsolete hardware, software, or IT procedures. Don't feel bad; upgrading content is just like upgrading your IT set-up. It's hard work at first but the end result is well worth the effort.
Update Your Website Design
Website visitors are most likely to leave your site in the first ten seconds after arrival and an outdated appearance is one of the reasons they'll split the scene. Even a site that was designed a few years ago will need some upgrades to showcase your business in the best possible light. A site that was designed when you first started your business will likely need an entirely new design to appeal to your target audience.
What does an updated website design look like? First of all, it's mobile-friendly. Recent statistics show that 96% of Americans own a smartphone and about 20% of smartphone owners use their devices rather than a traditional broadband service to get online. If your site isn't mobile-friendly, you won't be able to reach one in five potential clients. Additionally, your site should be responsive, use social media buttons, have up to date testimonials and contact information, and have no broken links.
Get Started Now
Ulistic is a marketing firm that specializes in promoting IT managed service firms in the United States, Canada, and Australia. If you need help transforming your website to meet your current and future needs, get in touch with us at your convenience to learn more about our services or to schedule an appointment with our team of marketing experts. We fully appreciate the vital role the IT MSP industry plays in optimizing business IT operations and we look forward to creating a custom marketing plan for your firm that will enable you to reach your core goals faster and easier than would have otherwise been possible.