Discover the Perfect Fix to Transform Your Life, Income, and Reputation – Guaranteed to Produce 36 Leads or Your Money Back!
Ulistic Now Offers the Perfect Fix to Keep You in Front of Your Clients & Prospects While Maintaining Top Of Mind Awareness.
Successful companies will tell you, one of the main reasons they're successful is because of their marketing efforts.  According to a recent study, 9 out of 10 managed IT services companies receive a failing grade when it comes to keeping in constant communication with their clients, prospects, and even those who "died on the vine."
Ulistic now offers IT service organizations the perfect solution to eliminate this major hurdle and get them in front of more potential business opportunities, more frequently.
Introducing Ulistic's LifeCycle Marketing services. Included in our VIP and Essentials marketing services, LifeCycle Marketing is a complete marketing solution that takes a business through the prospecting phase, client phase, and eventually graduation with continuous marketing efforts.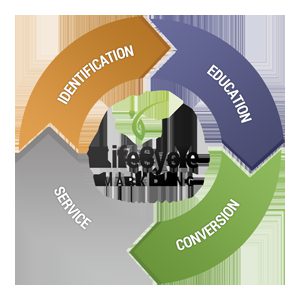 LifeCycle Marketing was built on a strong foundation crafted by Master MSP Marketer Stuart Crawford, an MSP veteran who employed these exact processes and procedures to build Calgary's IT Matters from 3 guys fixing computers to a dynamic MSP powerhouse and industry leader in just 7 years.
Are you ready to transform your life, along with your income and reputation in the industry?
This unique opportunity to help you stay organized, automate marketing, and close more sales is available through our VIP and Essentials marketing services. What's in it for you? Our VIP clients in particular enjoy:
An annual marketing strategy outlined to maximize your efforts
A fully search optimized website
Custom written content aligned with your offerings
Event planning and management
Design and creation of marketing materials, sales slicks, and more
Pay per click management
And much, much more
Our VIP clients also receive a full-service guarantee focused on their success. The guarantee offers a full refund – you get all of your money back if we're unable to generate 36 leads through the services we provide!
Blake Schwank, President at Colorado Computer Support, spoke about the wealth building power of our VIP services, "The bonus of Ulistic's fully managed marketing is I don't have to complete to win a Lexus, I can just go buy one!"
Take advantage of our VIP services, which includes LifeCycle Marketing services, and rest assured knowing we'll generate 36 leads or you get ALL of your money back! Call 716.799.1999 or email us at info@ulistic.com immediately. Ulistic is here to help you achieve stratospheric success.
Ulistic's guarantee is only available to VIP clients and all clients must meet qualifying criteria.