Process Driven MSP
Businesses of varying sizes are facing increasingly complex technical issues that require professional IT support. Non-programmable infrastructure (routers, physical servers, switches) and distributed endpoints continue to proliferate.
With the help of established managed service providers (MSPs), companies enhance their computer systems' efficiency and reliability. Thus, these services have become an integral part of business operations. The best MSPs assist businesses in achieving desired results by adopting a process-driven approach. Service providers set, define, and refine repeatable processes to match the clients' needs.
In turn, vendors find it easier to improve the quality of service and overall client satisfaction. Information technology support processes ensure that MSP staff work more efficiently and maintain high standards of service. IT experts handle service tickets effectively, thus reducing backlogs.
In addition, the approach promotes a culture of constant innovation and makes it easier to uphold the commitments outlined in IT service level agreements. A process-driven managed service provider relies on proven techniques and procedures to handle a wide array of IT tasks. These services include remote help desk support, patch management, data backups, onsite hardware maintenance, and network monitoring.
When it comes to information technology managed services, discipline is a crucial factor that makes a significant difference in producing results. In some cases, an MSP may commit to updating client servers once every month. The service provider performs the updates as scheduled to keep the clients' businesses running smoothly.
Process-driven managed service providers also assist companies to meet privacy and security compliance requirements. They align information service delivery with specific operational requirements. In many cases, MSPs also implement innovative solutions to help businesses achieve revenue growth.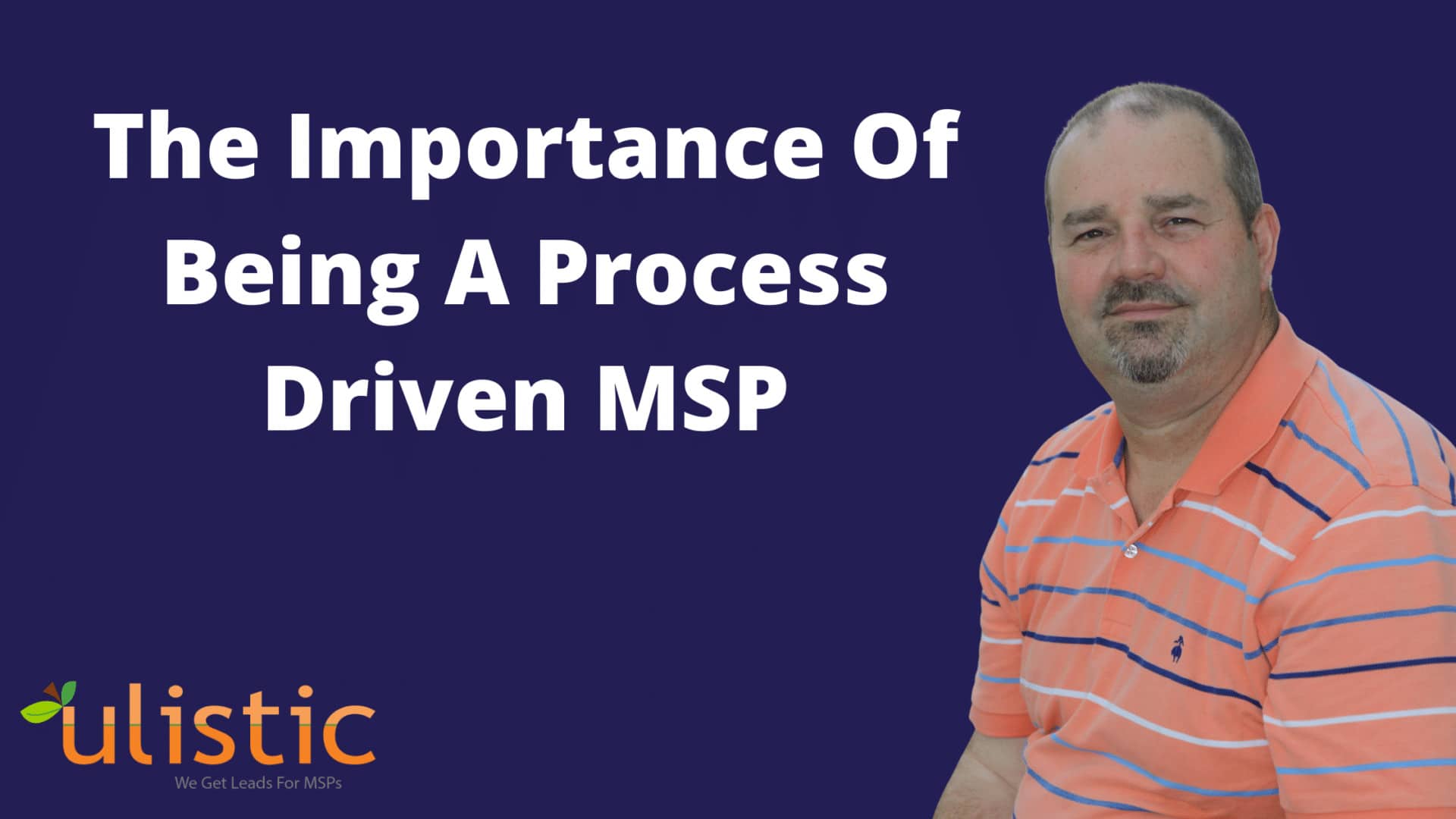 Adopting the Process-Driven Approach
MSPs need to conduct thorough assessments before adopting the process-driven approach. By doing so, they create a system designed to improve the client experience. The changes can transform various aspects of the MSP's workflow, including onboarding, service delivery, and offboarding.
Refined processes enable your managed IT services firm to differentiate itself from the competition. Your team can use this aspect to your advantage during the sales process to demonstrate the capacity to deliver IT support services more effectively.
Clients count on your team to implement digital transformation and keep systems operating smoothly. For this reason, your organization's processes should align with clients' needs and help deliver a more efficient IT infrastructure. Your firm's ability to provide comprehensive support to clients depends on how your team helps reduce the complexity associated with managing advanced IT environments.
By employing refined, repeatable processes, you achieve a coherent approach to service delivery. Every team member understands the relevant steps involved in delivering value to the clients. In today's competitive landscape, businesses need innovative technology solutions capable of accelerating time to value. As an established MSP, you assist clients in achieving these objectives.
A process-driven approach should help your team meet clients' expectations. Additionally, your solutions should work well with the client's existing processes and IT systems. Innovative solutions you deliver to the businesses benefit their clients, which boosts revenue over the long-term.
Streamlining Clients' Infrastructure
An efficient managed service provider can improve the client's operating environment without inflating costs. In many cases, the quality of service comes under scrutiny as clients require MSPs to demonstrate the ability to enable workloads in various IT environments, including on-premise, cloud, and hybrid.
To satisfy the client's requirements, you need to adopt a tailored, process-driven approach. As a result, your team can recommend a unique process to deal with IT operational task automation and management. These solutions reduce the client's workload complexity by separating some of the load from underlying information technology operation.
In turn, your clients take advantage of reusable micro-service capabilities to increase time to value. Acceleration directly improves workload deployment. Likewise, leveraging micro-service capabilities eliminates the duplication of various tasks. With these improvements, your client derives tangible benefits that demonstrate your team's abilities thanks to the refined, process-driven approach.
Service Development Process
The ability to offer continuous innovation is a capability that can help your MSP firm stand out from the competition. Clients need innovative solutions to transform their products and services. The solutions filter directly to their customer base. Hence, the need for your team to improve the service delivery process in a way that demonstrates the ability to deliver innovative solutions.
New clients may pose specific questions about your IT firm's development approach and process to innovation. A well-formulated process-driven system gives clients confidence in your organization's ability to make a significant contribution to ongoing development and innovation.
One of the best ways to help clients realize their innovation objectives is to create an intelligent process that handles projects effectively. By doing so, your IT company provides flexible and scalable support. Flexibility is vital in the delivery of managed information technology services. It enables your team to cater to the specific needs of each client.
In the end, your preferred service delivery process should empower clients to integrate, manage, optimize, and automate day-to-day operations. When handled correctly, the client optimizes the IT environment consistently and at scale.
As a managed service provider, you help businesses to manage various aspects of their operations, including productivity, collaboration, programmable infrastructure, and cloud workloads. In turn, organizations improve control of information technology environments and gain a competitive edge on the market.
A process-driven approach enables clients to resolve IT issues faster and accelerate change. It also bolsters the capabilities required to manage complex IT infrastructure more effectively.
Partnering with an MSP Marketing Agency
Working closely with an established digital marketing firm like Ulistic bolsters your IT company's capabilities to build a client base and boost results. The agency understands the need to highlight your firm's process-driven approach. It has helped managed service providers generate leads in various states and globally for more than 10 years.
Ulistic works closely with your in-house sales team to formulate viable digital marketing strategies. You can count on the MSP marketing agency to help grow your business by boosting online visibility. The team of marketing experts at Ulistic upholds the agency's core values: passion, client-focused, and initiative. They also embrace excellent communication to keep you informed every step of the way.