Where are all the managed service providers running Google Adwords? Have you noticed something different?
Google kissed sidebar ads goodbye…but is it forever? Overnight, your competition for Google Adwords has drastically increased. Of course, you're probably panicking. The sidebar ads are gone – making competition for your ad placements even harder and potentially more expensive.
Google has made a drastic change in how they present your ads. There are no more sidebar ads as they've been replaced with 4 in the top section. I never underestimate what Google wants to do with their ads, after all, it is their platform. This really makes having a MSP marketing company that completely understands how to stick handle Google Adwords an important part of your complete marketing strategy.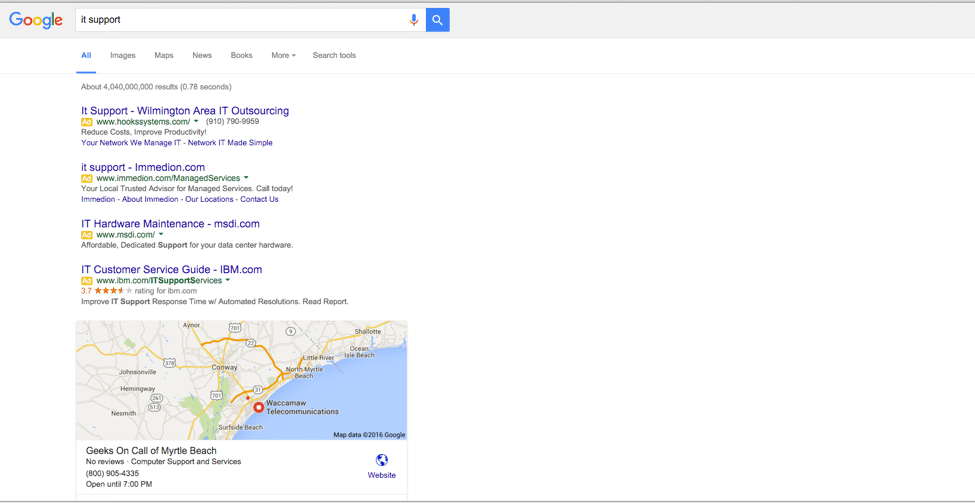 Is Google Adwords something Managed Service Providers should stay clear of? Absolutely not. This is a good thing for MSPs that understand the true value of their marketing investment. Now it will be more expensive to run ads on Google, but it isn't something that MSPs need to abandon ship on!
It is my belief that your Google Ads in the top section of the SERPs will continue to outperform organic searches when it comes to number of click throughs. MSPs must strategically look at their budgets to properly ensure they are getting their fair share of traffic.
However, setting the budget too low or having your ads not properly setup may exhaust your budget quickly, leading to lower click through rates and potential new customers not seeing your ads simply because you ran out of budget too quickly.
MSPs need the support of a qualified MSP marketing company that has experience working with Google Adwords and Google Remarketing.
What can MSPs do to ensure they are maximizing their investment with Google Ads?
Make sure their keywords are as tight as possible. They must clearly plan and execute the right keywords that eliminate wasted dollars on the wrong clicks.
Create strategic ad campaigns that target a particular audience using long tail keyword searches.
Look to remarketing to re-engage with previous visitors.
Look to social advertising on Facebook and other online platforms.
Google will start using the right hand space for other search strategies, including product listings, Google business listings, and even more items that we haven't began to link about.  Bottom searches will not be impacted with this change.
Have questions about these changes?  I invite you to connect with me to discuss how Google Adwords and these new changes may impact your MSP. Reach out to me directly at https://www.ulistic.com/stuart.